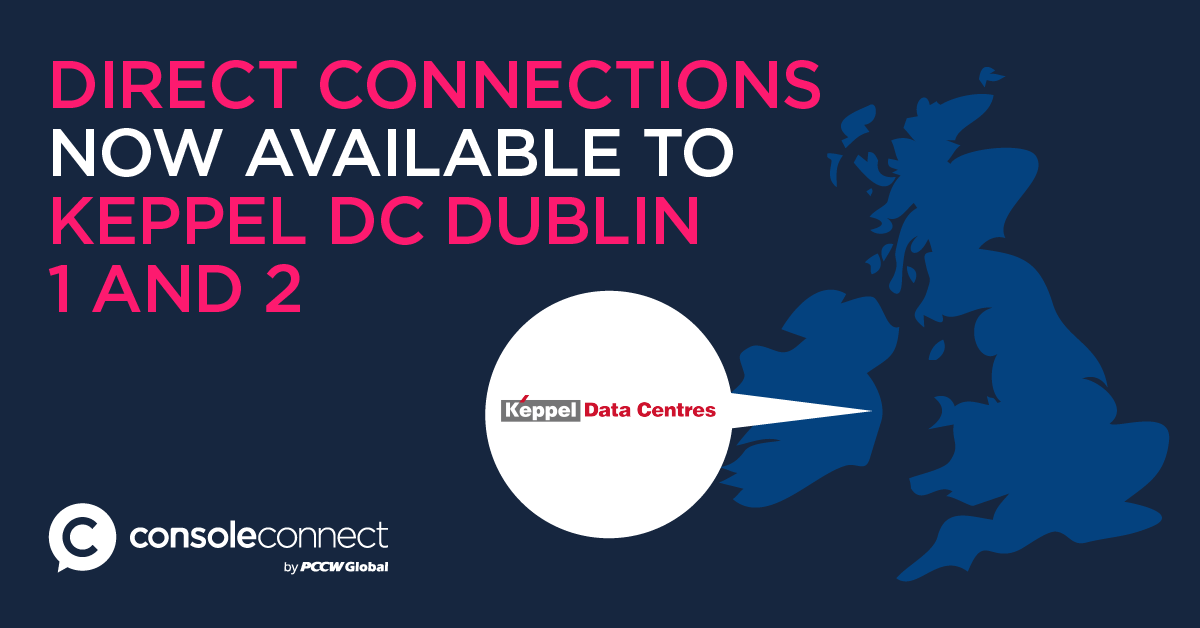 Console Connect users can now make direct and on-demand connections to two Keppel DC facilities in Dublin, Ireland, through our secure web portal or API.
Direct interconnects are now available via the platform to Keppel DC Dublin 1 and Dublin 2, as well as to Keppel DC's colocation facility in Frankfurt and the PCCW Global-Keppel International Carrier Exchange (ICX) in Hong Kong.
Keppel DC Dublin 1 is a two-storey colocation data centre facility built in 2000 and refreshed in 2019 with data halls of varying sizes.It is located 14km Southwest of Dublin City Centre and serves over 130 companies, with an overall focus on technological innovation. The facility is both ISO/IEC 27001:2013 and ISO 9001:2015 certified, and has received the PCI-DSS accreditation for payment card industries.
Keppel DC Dublin 2 is a two-storey colocation data centre facility built in 2013 and is located within the Ballycoolin Business and Technology Park in Dublin, approximately 12 kilometres from the city centre. The two-storey facility was built in 2013 and is ISO/IEC 27001:2013 certified, PCI-DSS accredited and externally verified and audited SOCII Type II attestation.
"We are pleased that our enterprise customers in Keppel DC Dublin 1 and 2 will get to enjoy direct interconnections to Console Connect's platform, which allows users to instantly self-provision private and direct layer 2 connections to leading SaaS and cloud providers, such as Google Cloud, AWS, Microsoft Azure and more," said Gary Watson, Country Manager for Ireland, Keppel Data Centres.
Console Connect users can seamlessly connect to over 400 data centres worldwide, which includes a growing number of locations in Ireland.
Ireland has become a popular European tech hub and has attracted many of the world's largest tech players. Dublin is the European headquarters for Google, while Facebook, Microsoft and Amazon have invested considerably in data centres in proximity to the Irish capital.