Software-Defined Interconnection® made easy.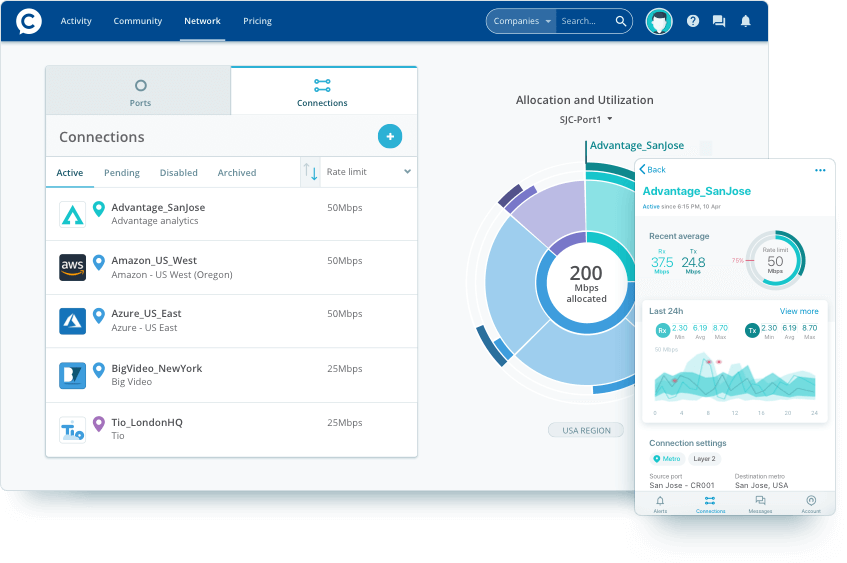 Console Connect is Software-Defined Interconnection® that makes connecting to cloud-based, business-critical applications simple, predictable and secure.
Interconnection automation software
Interconnect in seconds with Console Connect's simple-to-use yet sophisticated network automation software
Tier 1 global IP network
PCCW Global's extensive Tier 1 global IP network and a unique ecosystem of clouds, XaaS providers and business-critical partners
Networking community
Powerful social platform for knowledge sharing, troubleshooting and growing your network and business
Interconnection made easy
Our automated, interconnection provisioning and routing is simple and easy to use. You don't even need an ASN. We've removed the complexity of configuration so that you can focus on your core business.  Get started with just one port and cross-connect. Once you're setup, connect with your business-critical applications and cloud partners with a click of a button.
See how easy it is to connect
Console Connect gives you the tools you need to manage multiple secure direct interconnections from your ports so that you can easily monitor connection performance. View bandwidth allocation and utilization and dial it up and down as needed. Most importantly, you are in control!
See how to monitor your connections
A community by network engineers for network engineers, designed for knowledge sharing, troubleshooting and growing your network. Console Connect gives you a stream of posts, articles and events created by your peers in the networking community. Connect and collaborate in real time with chat and messaging.
Connect enterprise data centers, headquarters to regional centers and branch offices. Leverage the social community to interconnect with business partners and your supply chain. Get private access to public clouds, such as AWS, Azure and other available IaaS Providers. Furthermore, privately connect to apps and services such as video conferencing, unified communications and service desks.
See how easy it is to connect to AWS
Console Connect by PCCW Global
We are PCCW Global, one of the world's leading and award winning telecommunications groups, serving millions of people in more than 3,000 cities and 150 countries. Our global experience and continuous investment in infrastructure, technology and customer service puts us at the forefront of communications expertise.