CONSOLE CONNECT


SOFTWARE DEFINED INTERCONNECTION®
Console Connect Software Defined Interconnection® (SDI®) makes connecting your global data centres, clouds, cloud-based applications and business partners simple, predictable and secure.
Self-provision high speed bandwidth on-demand anywhere across one of the world's highest performing networks and manage and monitor in real-time.
Spin up connections in seconds. Flex bandwidth on-demand. Only pay for what you use.
Leading global network
Privately connect over one of the world's largest high performance networks with assured quality of service and the ability to scale and flex on-demand. We go beyond North America, Europe and Asia and reach into Africa, the Middle East and Latin America.
Interconnection made easy
We've reduced the complexity of network and connection configuration so that you can focus on your core business. Get started with just one port and cross-connect. Once you are set up, connect data centres, business partners, distributed IT infrastructure and the world's major public clouds in a few clicks.
Complete control
Connect on-demand. Console Connect gives you the tools you need to manage and monitor multiple secure direct interconnections. View bandwidth allocation and utilisation stats. Turn bandwidth up and down as you need. You are in complete control!
Networking community
For network engineers, by network engineers. A community designed for knowledge-sharing, troubleshooting and growing your network. Get access to exclusive content created by your peers, while you connect and collaborate in real-time with chat and messaging.
SDI® features on Console Connect
Interconnection
Interconnect through API or our self-service portal at any of our on-net data centres.
On-demand
Scale bandwidth on-demand in real-time across the globe between networks, clouds and businesses.
Flexibility
'Pay as you go'- only pay for what you use. Connections available for a day, week, month or year.
Access
1G or 10G access ports are now available from 500+ data centres.
Virtual Connect speeds
1Mbps up to 10,000Mbps across the platform.
Service guarantee
99.9% service availability.
Cloud connections
Extend your reach to global clouds. We have built interconnections between all major key global cloud providers.
Monitoring
Full traffic monitoring on all virtual connections across the network with fault reporting on network availability.
API partners
As we extend Console Connect, more and more ecosystems are coming onto the network. Peering IX partners, SaaS providers, data centre ecosystems, storage, carrier API networks, API local loop providers – all on one global platform.
Community
Building one secure, global interconnection platform for businesses, network providers, carriers, data centres and API ecosystems to interconnect instantly.

Connect to the cloud… fast!
As the public cloud becomes the host for an increasing number of mission critical applications, network demands for security speed and agility are growing rapidly. Console Connect can help solve these problems with business-critical connections that are simple, secure and flexible.
Directly connect to major cloud platforms including Amazon Web Services, Microsoft Azure ExpressRoute, Google Cloud Platform and IBM Cloud from any of our growing number of data centre locations in 50+ countries.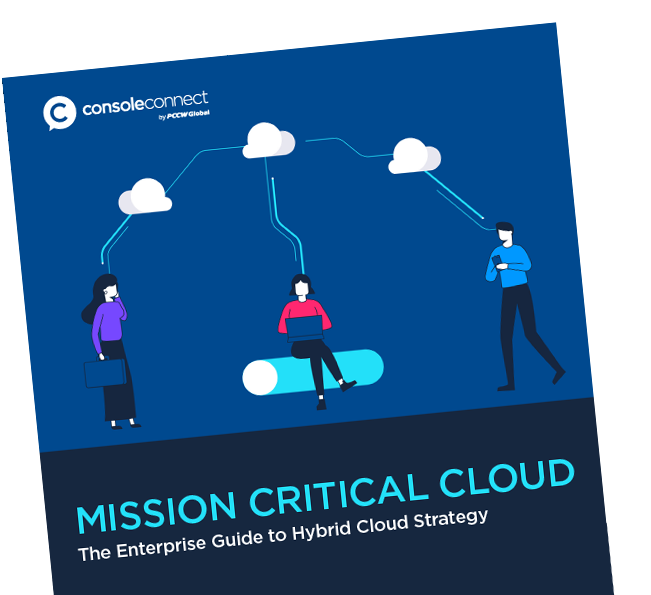 Download Mission Critical Cloud —
The Enterprise Guide to Hybrid Cloud Strategy
You'll learn:
why the Enterprise IT landscape is rapidly changing,
how many businesses aren't utilising Cloud-based connections to their best ability, and
the difference between Clouds and how Console Connect can help provide the most safe, simple and dependable connection for you.
Download for free
Why choose Console Connect for your Software Defined Networking needs?
Guaranteed performance
Console Connect runs on PCCW Global's leading MPLS network, which features an uncontended, redundant core network with multiple low-latency paths between countries.
Reduced complexity
Start with a single data centre cross-connect and a single access port, and control your entire service on your desktop and or mobile. Order, change and monitor connections in real-time, with point and click provisioning.
Speed to market
Quickly and privately connect port to port, port to cloud, cloud to cloud. Self-provision cloud connectivity in seconds and shape it on-demand. Integrate seamlessly into partners' existing platforms and infrastructure.
Simplified, competitive pricing
Online pricing calculator for global connectivity, with no vendor lock-in: PAYG via credit card or invoice, or bundle together with PCCW Global services.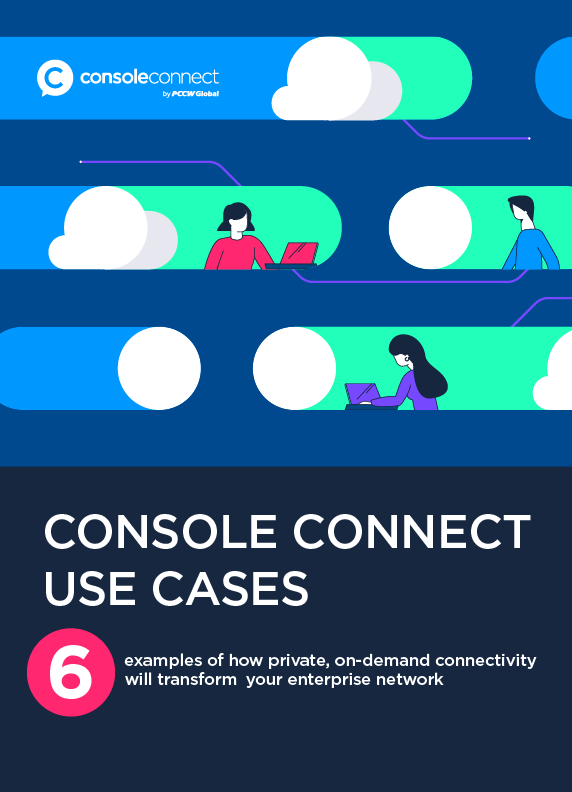 Free download — 6 Use Cases
Learn about six different customer cases that will help you understand how common connectivity challenges can be easily overcome with the Console Connect platform.
Download use cases
Console Connect meets the demands of the high-stakes world of e-gaming
See how we enabled Hong Kong Tourism Board to scale bandwidth up and down, on demand. Learn how Console Connect meets the bandwidth and low-latency demands of VR and high resolution streaming. Discover how the benefits of our Software-Defined Network allowed them to attract the best talent and increase an ever growing audience.
LEARN HOW WE ARE HELPING BUSINESSES ACROSS THE WORLD
Access to our pricing calculator for ports and virtual connections
See which clouds, SaaS and businesses are in our Community
Connect and collaborate with partners and customers
Register your company for self-service, on-demand private connectivity