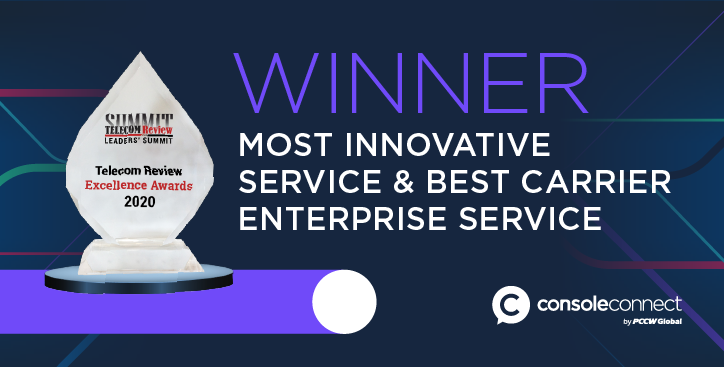 Console Connect by PCCW Global won two awards at the 2020 Telecom Review Excellence Awards last night, as the platform was named Most Innovative Service and Best Carrier Enterprise Service.
Console Connect has collected multiple awards over the last two months. Earlier in November, our Software Defined Interconnection® platform was selected as Best Service or Product Innovation at the AfricaCom Awards. In October, the platform was named Wholesale Innovation Disruptor Of The Year at the 2020 Global Carrier Awards.
The 9th edition of the Excellence Awards ceremony took place this week at the Telecom Review Leaders' Summit in Dubai. The awards recognise some of the telecoms industry's most influential players and winners are selected by a jury of ICT veterans. During the ceremony, PCCW Global was also named Best Global Operator.
"We are delighted to continue our winning streak and take home two Telecom Review Excellence Awards last night. 2020 has been a big year for Console Connect as we've significantly increased the size of our overall ecosystem and introduced new features and services to the automated platform," said Neil Templeton, VP of Digital Innovation Marketing at PCCW Global.