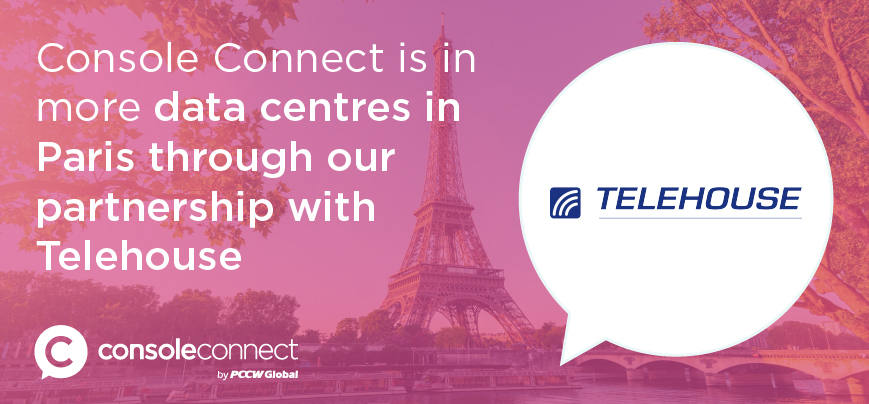 We are pleased to announce that we've extended our partnership with Telehouse to bring Console Connect to more data centres across Paris, France.
Our Software-Defined Interconnection® platform is now enabled in Telehouse's three data centres located in and around the Paris city centre.
This news means that Telehouse customers can now instantly access our growing ecosystem of clouds and SaaS providers, as well as seamlessly connect to over 300 data centres across 40 countries.
Console Connect customers can meanwhile enjoy more interconnect choice in Paris, where Telehouse's data centres play an essential role in making the city one of Europe's most important internet hubs.
In particular, Telehouse's Voltaire data centre (also known as Telehouse 2) is one of the largest and most connected data centres in France, as well as home to France-IX. In fact, over 80% of the French internet exchange's traffic travels through the data centre, which also hosts over 70 national and international carriers.
Telehouse's Paris Jeûneurs data centre (also known as Telehouse 1) is also of strategic importance and can be found in one of the most sought after locations in Paris. Opened in 1996, it is Telehouse's first Paris data centre and today serves over 400 customers across a range of industry verticals.
Lastly, Telehouse's Magny-Les-Hameaux facility (also known as Telehouse 3) is considered one of France's most secure data centre facilities and is located on a six hectare former military facility just 40 minutes away from central Paris. It consists of 9 buildings connected by underground tunnels.
Console Connect is now live in Telehouse's Voltaire, Paris Jeûneurs and Magny-Les-Hameaux facilities, and you can view our full list of European data centre locations here.