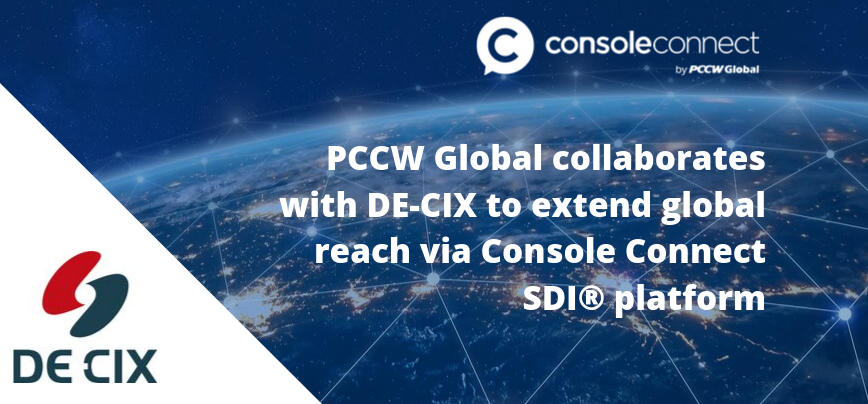 HKT (SEHK:6823) – HONG KONG / FRANKFURT, September 30, 2019 – PCCW Global, the international operating division of HKT, Hong Kong's premier telecommunications service provider, and DE-CIX, the world's leading Internet Exchange (IX) operator, have collaborated to extend the reach of DE-CIX's cloud and data center offerings via the Console Connect SDI® platform by PCCW Global. The collaboration will also provide Console Connect customers direct on-demand access to the DE-CIX platform via the self-provisioning platform.
The Console Connect SDI® platform, the world's first global platform for Software-Defined Interconnection®, offers DE-CIX customers a real time self-provisioning, pay-as-you-go ecosystem that delivers on-demand virtual connections among 37 countries, together with instant provisioning to key cloud partners such as AWS, IBM Cloud, Tencent Cloud, Alibaba Cloud, Oracle Cloud, Google Cloud, and direct, private connectivity to an additional 120 data centers in key markets throughout Europe, Asia, the Middle East, Africa, and North America.
DE-CIX provides premium network interconnection services and operates 18 carrier and data center-neutral Internet Exchanges in Europe, the Middle East, North America, and India.
Mr. Ivo Ivanov, Chief Executive Officer of DE-CIX International, said, "It has always been DE-CIX's ambition to make interconnection as easy as possible anywhere our customers need our services on the planet. This collaboration with PCCW Global is just the right step to getting interconnection even closer to the edge. We are thrilled to be the first IX globally to join the Console Connect SDI® platform."
DE-CIX customers will be able to run private, secure virtual connections across the Console Connect platform and provision, upgrade and monitor services on-demand. The collaboration will enable DE-CIX customers who are using the Console Connect SDI® platform globally to instantly provision services from any data center directly into the DE-CIX platform.
Mr. Michael Glynn, Vice President of Digital Automated Innovation, PCCW Global, said, "We are pleased that this collaboration will be the first IX interconnect platform to be integrated with our global SDI® platform, enabling our wholesale and enterprise customers to instantly provision virtual circuits across our SDI® platform to access multi DE-CIX on-ramp locations. It also enables DE-CIX customers to purchase on-demand services via our platform from key cloud partners around the world and extend their IX platform to over 120 on-net data centers in 37 countries. This is another step in assuring SDI® platform for carriers, SD-WAN providers, IX platforms, and other SDN operators, helping them extend their reach and interconnect together via traditional Network-to-Network Interconnection using our self-provisioning portal, or integrating via API at any of our access points."
The Console Connect SDI® platform overarches the worldwide PCCW Global network – spanning over 160 countries and 3,000 cities – offering an uncontended, redundant, core network with multiple diverse paths between countries.
About PCCW Global
PCCW Global is the international operating division of HKT, Hong Kong's premier telecommunications service provider, which is majority-owned by PCCW Limited. Covering more than 3,000 cities and 160 countries, the PCCW Global network supports a portfolio of integrated global communications services including connectivity, applications, and tailored solutions facilitated by its on-demand digital software defined interconnection system.
PCCW Global is headquartered in Hong Kong, and maintains regional centers in Belgium, China, France, Greece, Japan, Korea, Singapore, South Africa, the United Arab Emirates, the United Kingdom and the United States of America. To learn more about PCCW Global, please visit www.pccwglobal.com.
About HKT
HKT (SEHK: 6823) is Hong Kong's premier telecommunications service provider and leading operator in fixed-line, broadband and mobile communication services. It meets the needs of the Hong Kong public and local and international businesses with a wide range of services including local telephony, local data and broadband, international telecommunications, mobile, enterprise solutions, and other telecommunications businesses such as customer premises equipment sales, outsourcing, consulting, and contact centers.
HKT offers a unique quadruple-play experience in Hong Kong delivering media content on its fixed-line, broadband Internet access and mobile platforms jointly with its parent company, PCCW Limited.
HKT also provides a range of innovative and smart living services beyond connectivity to make the daily lives of customers smarter, whether they are at home, in the workplace, or on the go. Consumers and merchants alike may also enjoy HKT's financial-related services such as mobile payment, smart mobile point-of-sale solutions, and insurance.
For enterprises, HKT delivers end-to-end integrated solutions employing emerging technologies such as cloud computing, Internet of Things (IoT) and Artificial Intelligence (AI) to accelerate their digital transformation, contributing to Hong Kong's development into a smart city.
The Club is HKT's loyalty program and one of the largest of its kind in Hong Kong, not only offering a variety of privileges and benefits to enrich the lifestyle of members, but also increasingly amalgamating merchants and becoming an integral part of a new digital ecosystem connecting consumers and merchants.
For more information, please visit www.hkt.com.
About DE-CIX
DE-CIX – the world's leading Internet Exchange (IX) operator – provides premium interconnection services and runs a range of carrier and data center-neutral IXs globally. Founded in 1995, DE-CIX serves close to 1700 carriers, ISPs and content networks from 100+ countries, including all leading international players in various metro markets in Europe, the Middle East, India and North America. With 7+ Terabits per second of peak traffic, DE-CIX Frankfurt is the world's leading Internet Exchange. For more information, please visit www.de-cix.net.
For more information, please contact:
Ivan Ho

PCCW Group

Tel:     +852 2883 8747

Email: [email protected]

Carsten Titt

Head of Global Public Relations
DE-CIX

Tel:     +49 (0) 69 1730902 130
Email: [email protected]
IMPORTANT DISCLAIMER – THIS PRESS RELEASE IS NOT INTENDED FOR USE OR DISTRIBUTION OR FOR CUSTOMERS IN AUSTRALIA
All intellectual property rights including copyright in this press release are owned by PCCW Global. No part of this press release may be used, disseminated, published or reproduced in Australia or other countries not approved by PCCW Global in writing in any form by any means, including but not limited to posting on any websites or social media platforms.
Jointly issued by PCCW Global and DE-CIX.