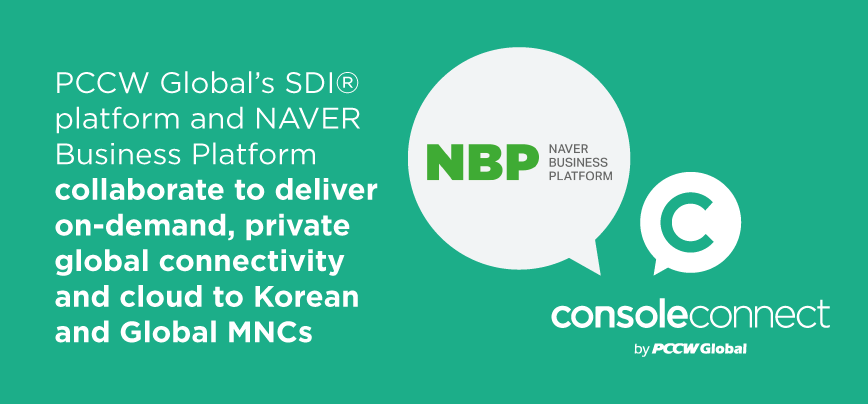 HKT (SEHK:6823) – HONG KONG, October 22, 2019 – PCCW Global, the international operating division of HKT, Hong Kong's premier telecommunications service provider, and NAVER Business Platform (NBP), the leading IT Infrastructure and cloud services provider in South Korea providing a broad spectrum of IT services and public cloud services via the NAVER CLOUD PLATFORM, today announced a bilateral interconnect collaboration to provide South Korean and multi-national enterprises direct, on-demand connections to the NAVER Business Platform with PCCW Global's Console Connect Software-Defined Interconnection® (SDI®) platform. Console Connect can provide NBP customers with fast, low-latency and secure direct connectivity delivered over PCCW Global's MPLS network.
NBP is South Korea's leading IT and cloud service provider with global data centers and cloud services in six countries around the world spanning Asia, Europe and the Americas. NBP is the cloud and IT infrastructure subsidiary of NAVER Corporation (market capitalization of US$16.2B). NAVER Corporation is a global ICT that runs South Korea's largest web search engine and manages global mobile services such as LINE Messenger.
Through collaboration and interconnection with Console Connect, NBP customers are now able to provision fast, private, low latency connections on-demand to access their business-critical applications, and can connect their global customer networks in seconds. The simple-to-use automation software eliminates the complexity of network configuration and delivers enhanced performance, visibility, monitoring, and security.
Console Connect delivers an easy and affordable way to connect to cloud-based applications, partners, IT infrastructure and the world's major cloud hosting services. The platform spans over 37 countries and interconnects over 120 data centers, leveraging the worldwide PCCW Global MPLS network, which is physically separate to the public Internet and features an uncontended, highly resilient and redundant core network with multiple low-latency paths between countries. To support the growing trend for multi-cloud and hybrid cloud deployments, customers are also able to use the platform and PCCW Global's network to implement on-demand connectivity between global data centers and all other major cloud on-ramp partners, including AWS Direct Connect, Microsoft Azure, IBM Cloud, Oracle Cloud, Google Cloud, Alibaba Cloud and Tencent Cloud.
Mr. Michael Glynn, PCCW Global's Vice President of Digital Automated Innovation, said, "NAVER Business Platform has an extensive portfolio of cloud services and a growing international business. We are very excited to work together to jointly deliver a superior cloud networking experience on our global SDI® platform. Once established on our ecosystem it will expand NAVER CLOUD PLATFORM not only locally in our multi-presence data centers in Seoul but to over 37 countries on our platform. We are running one of the largest on-demand, self-provisioning software-defined interconnection platforms in the world and have over 22TB of fiber capacity globally which is a key benefit to any NAVER CLOUD PLATFORM customer that is looking for low latency, resilient, secure, instant connections back into the NAVER CLOUD PLATFORM."
Mr. KwangPyo Hong, Head of Global Business, NAVER Business Platform, said, "Console Connect by PCCW Global enables NAVER Business Platform to further upgrade the global business of NAVER CLOUD PLATFORM. As multi-cloud has been gaining great momentum, reliable and convenient network connectivity with global data centers is becoming an essential element of cloud services. NAVER Business Platform will continue to expand its service to meet diverse needs of customers from all over the world."
About PCCW Global
PCCW Global is the international operating division of HKT, Hong Kong's premier telecommunications service provider, which is majority-owned by PCCW Limited. Covering more than 3,000 cities and 160 countries, the PCCW Global network supports a portfolio of integrated global communications services including connectivity, applications, and tailored solutions facilitated by its on-demand digital software defined interconnection system.
PCCW Global is headquartered in Hong Kong, and maintains regional centers in Belgium, China, France, Greece, Japan, Korea, Singapore, South Africa, the United Arab Emirates, the United Kingdom and the United States of America. To learn more about PCCW Global, please visit www.pccwglobal.com.
About HKT
HKT (SEHK: 6823) is Hong Kong's premier telecommunications service provider and leading operator in fixed-line, broadband and mobile communication services. It meets the needs of the Hong Kong public and local and international businesses with a wide range of services including local telephony, local data and broadband, international telecommunications, mobile, enterprise solutions, and other telecommunications businesses such as customer premises equipment sales, outsourcing, consulting, and contact centers.
HKT offers a unique quadruple-play experience in Hong Kong delivering media content on its fixed-line, broadband Internet access and mobile platforms jointly with its parent company, PCCW Limited.
HKT also provides a range of innovative and smart living services beyond connectivity to make the daily lives of customers smarter, whether they are at home, in the workplace, or on the go. Consumers and merchants alike may also enjoy HKT's financial-related services such as mobile payment, smart mobile point-of-sale solutions, and insurance.
For enterprises, HKT delivers end-to-end integrated solutions employing emerging technologies such as cloud computing, Internet of Things (IoT) and Artificial Intelligence (AI) to accelerate their digital transformation, contributing to Hong Kong's development into a smart city.
The Club is HKT's loyalty program and one of the largest of its kind in Hong Kong, not only offering a variety of privileges and benefits to enrich the lifestyle of members, but also increasingly amalgamating merchants and becoming an integral part of a new digital ecosystem connecting consumers and merchants. For more information, please visit www.hkt.com.
About NAVER Business Platform (www.ncloud.com)
NAVER Business Platform (NBP) was launched as a specialized IT division within NAVER on May 1, 2009. NBP is a global enterprise that provides a broad range of services, including IT infrastructure, security, in-house information processing, and cloud services to other NAVER subsidiaries, including NAVER, LINE and SNOW.
In 2017, based on NBP experience providing cloud technology, computing, storage, networking, database, security, management, and global services to NAVER and LINE, NBP launched cloud business 'NAVER CLOUD PLATFORM' to help clients succeed in the IT industry. With the great success of NAVER and LINE, NBP attest that NBP will continue to provide unparalleled support for companies and developers providing internet services. 
For more information, please contact:
IMPORTANT DISCLAIMER – THIS PRESS RELEASE IS NOT INTENDED FOR USE OR DISTRIBUTION OR FOR CUSTOMERS IN AUSTRALIA
All intellectual property rights including copyright in this press release are owned by PCCW Global. No part of this press release may be used, disseminated, published or reproduced in Australia or other countries not approved by PCCW Global in writing in any form by any means, including but not limited to posting on any websites or social media platforms.
Jointly Issued by PCCW Global and NAVER Business Platform.