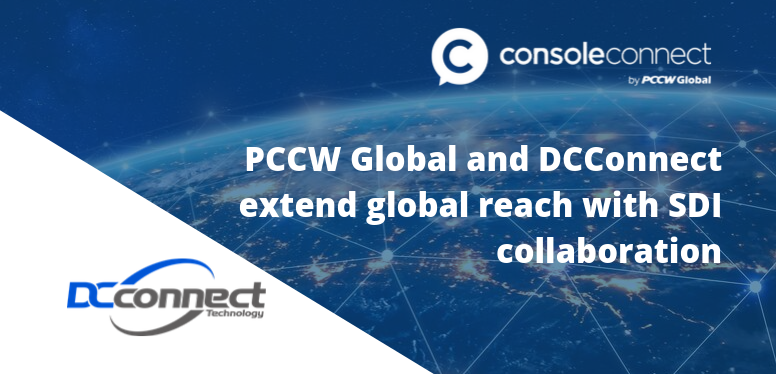 HKT (SEHK:6823) – HONG KONG, September 16, 2019 – PCCW Global, the international operating division of HKT, Hong Kong's premier telecommunications service provider, and DCConnect, a leading APAC on-demand connectivity, data center and cloud provider, have entered into a technology collaboration that will enable both Console Connect and DCConnect customers to seamlessly leverage network services from either service provider, including providing DCConnect customers with on-demand access to PCCW Global's extensive international network footprint.
PCCW Global's Console Connect is a game-changer for business, making the process of connecting to cloud-based business-critical applications and geographically distributed offices, partners and clients simple, predictable and secure. Spanning over 37 countries, the Console Connect platform enables users to purchase on-demand connectivity in more than 100 global data centers and to all major cloud on-ramp partners, including AWS Direct Connect, Microsoft Azure, IBM Cloud, Oracle Cloud, Google Cloud, Alibaba Cloud and Tencent Cloud.
DCConnect is the leading software-defined enterprise and carrier platform in China. DCConnect's coverage includes every major data center and cloud vendor in China. The technology collaboration will enable DCConnect's clients to interconnect with the Console Connect platform in Hong Kong, Singapore, and Los Angeles – providing access to a truly global network.
The API integration allows users to run private and secure virtual connections across both networks, as well as being able to provision, upgrade, and monitor on-demand services. Both platforms enable users to interconnect and purchase flexible services on a daily, weekly, or monthly basis – only paying for services which are available to be used with no lock-in contracts or minimum usage criteria.
Mr. Billy Fung, Chief Technology Officer, DCConnect, said, "DCConnect is excited to establish a two-way integration with PCCW Global. We look forward to enabling our customers to make use of PCCW Global's extensive and robust IP backbone and global subsea network, providing instant access, with Quality of Service, to many markets around the world. Similarly, we also look forward to serving PCCW Global customers with our own extensive network resources throughout China."
Mr. Michael Glynn, Global Vice President of Digital Automated Innovation, PCCW Global, said, "The interconnect collaboration with DCConnect allows our customers to access more data centers directly from our platform. We are building one of the largest SDN wholesale ecosystems worldwide for carriers, network providers, and other SDN providers, enabling them to access our extensive redundant global backbone on-demand, while extending their coverage and service offering to support their own customer needs,  by interconnecting into our platform at any of our on-net data centers."
– # –
About PCCW Global
PCCW Global is the international operating division of HKT, Hong Kong's premier telecommunications service provider, which is majority-owned by PCCW Limited. Covering more than 3,000 cities and 160 countries, the PCCW Global network supports a portfolio of integrated global communications services including connectivity, applications, and tailored solutions facilitated by its on-demand digital software defined interconnection system.
PCCW Global is headquartered in Hong Kong, and maintains regional centers in Belgium, China, France, Greece, Japan, Korea, Singapore, South Africa, the United Arab Emirates, the United Kingdom and the United States of America. To learn more about PCCW Global, please visit www.pccwglobal.com.
About HKT
HKT (SEHK: 6823) is Hong Kong's premier telecommunications service provider and leading operator in fixed-line, broadband and mobile communication services. It meets the needs of the Hong Kong public and local and international businesses with a wide range of services including local telephony, local data and broadband, international telecommunications, mobile, enterprise solutions, and other telecommunications businesses such as customer premises equipment sales, outsourcing, consulting, and contact centers.
HKT offers a unique quadruple-play experience in Hong Kong delivering media content on its fixed-line, broadband Internet access and mobile platforms jointly with its parent company, PCCW Limited.
HKT also provides a range of innovative and smart living services beyond connectivity to make the daily lives of customers smarter, whether they are at home, in the workplace, or on the go. Consumers and merchants alike may also enjoy HKT's financial-related services such as mobile payment, smart mobile point-of-sale solutions, and insurance.
For enterprises, HKT delivers end-to-end integrated solutions employing emerging technologies such as cloud computing, Internet of Things (IoT) and Artificial Intelligence (AI) to accelerate their digital transformation, contributing to Hong Kong's development into a smart city.
The Club is HKT's loyalty program and one of the largest of its kind in Hong Kong, not only offering a variety of privileges and benefits to enrich the lifestyle of members, but also increasingly amalgamating merchants and becoming an integral part of a new digital ecosystem connecting consumers and merchants.
For more information, please visit www.hkt.com.
About DCConnect
DCConnect, headquartered in Singapore, is an innovator of on-demand connectivity to global data centers and Cloud Service Providers. DCConnect has developed innovative portal connectivity to global data centers and Cloud Providers via a comprehensive user interface. This provides users with a scalable, agile, flexible solution allowing users to define via a virtual port to cost effectively turn up or turn down bandwidth within minutes. DCConnect has recently been awarded the finalist of "Most Innovative NFV/SDN Implementation" in the Telecom Asia Awards 2019. It has also received an award of "Best Innovative Product and Best Practice" from 2018 Global Internet and Communications Cross Border Connectivity and Settlement Seminar.
For more information, visit: http://www.dcconnectglobal.com/
For more information, please contact:
IMPORTANT DISCLAIMER – THIS PRESS RELEASE IS NOT INTENDED FOR USE OR DISTRIBUTION OR FOR CUSTOMERS IN AUSTRALIA
All intellectual property rights including copyright in this press release are owned by PCCW Global. No part of this press release may be used, disseminated, published or reproduced in Australia or other countries not approved by PCCW Global in writing in any form by any means, including but not limited to posting on any websites or social media platforms.
Issued by HKT Limited.
HKT Limited is a company incorporated in the Cayman Islands with limited liability.